Genesis Health & Fitness Allstars Guernsey Design
Cairns Post North v South Guernsey Design
Competition 2020
AFL Cairns is providing artists with the opportunity to design two representative gurneys. These are the 2020 Allstars guernsey & Women's North v South guernsey, for the 7th annual Allstars blockbuster Clash at Cazalys Stadium in May.
The special design will be worn by both Genesis Health & Fitness All Stars teams when the Coaching Zone Indigenous/South Pacific & Allstars take on each other in the AFL Cairns feature Representative Round in season 2020. Plus, the Cairns Post Women's North vs South team will get a chance to wear their design.
In addition to this, the winning guernsey will feature in all media promotions. Plus, the winning artist(s) will tell their story about the guernsey design on AFL Cairns Live TV.
The 2019 winning artist will meet & greet with Gold Cost SUNS Players in February. Receive a framed Allstars guernsey signed by the winning Allstars' Captain, and Senior Coach and a 30 day pass to Genesis Health + Fitness.  If we have two winning entries this prize will be duplicated.
To enter the competition, create your artwork with the theme  'coming together under the stars' (see artwork specifications and guidelines for details below), and send it to jane@aflcairns.com.au  with your full contact details including name, e-mail and phone number. An independent panel of judges will decide the top two designs, and then AFL Cairns fans will vote for the winner via social media.
To download a template visit www.aflcairns.com.au
Entries close at 5:00pm on Friday, January 31, 2020.
For more information, artwork specifications and guidelines for the guernsey design competition see below;
What's required:
Design either the Men's or Women's Allstars Guernsey – this is two separate designs. Or entrants can design both guernseys. The Guernsey template is available to download at AFLCairns.com.au
The design should reflect the theme "Coming Together under the Stars".
Artwork must be made on an editable file in InDesign, Adobe or similar so we can use the same design but be able to change the colours so both teams wear the same design but just different colours.
Men's design colours – choose one design colour only from each. Only one design is required we will then duplicate the pattern from your design.
Indigenous South Pacific Team The colours will be red & yellow with blue trim
Allstars is Green & yellow with blue trim.
Women's design colours – choose one design colour only:
South Team orange with white trim
North Team light blue & dark blue with white trim
Must include date 2020
Do not design over or cover the AFL Cairns Logo, Cazlays Cairns Logo, Genesis Health & Fitness Logo or Numbers front and back.
We want you to include watermarking the colours so that it gives depth to the design.
Any questions please contact Jane Clarke M:0433 493 177 or email jane@aflcairns.com.au
Examples of previous years:
Coaching Zone Indigenous South Pacific
Genesis Health + Fitness Allstars 2019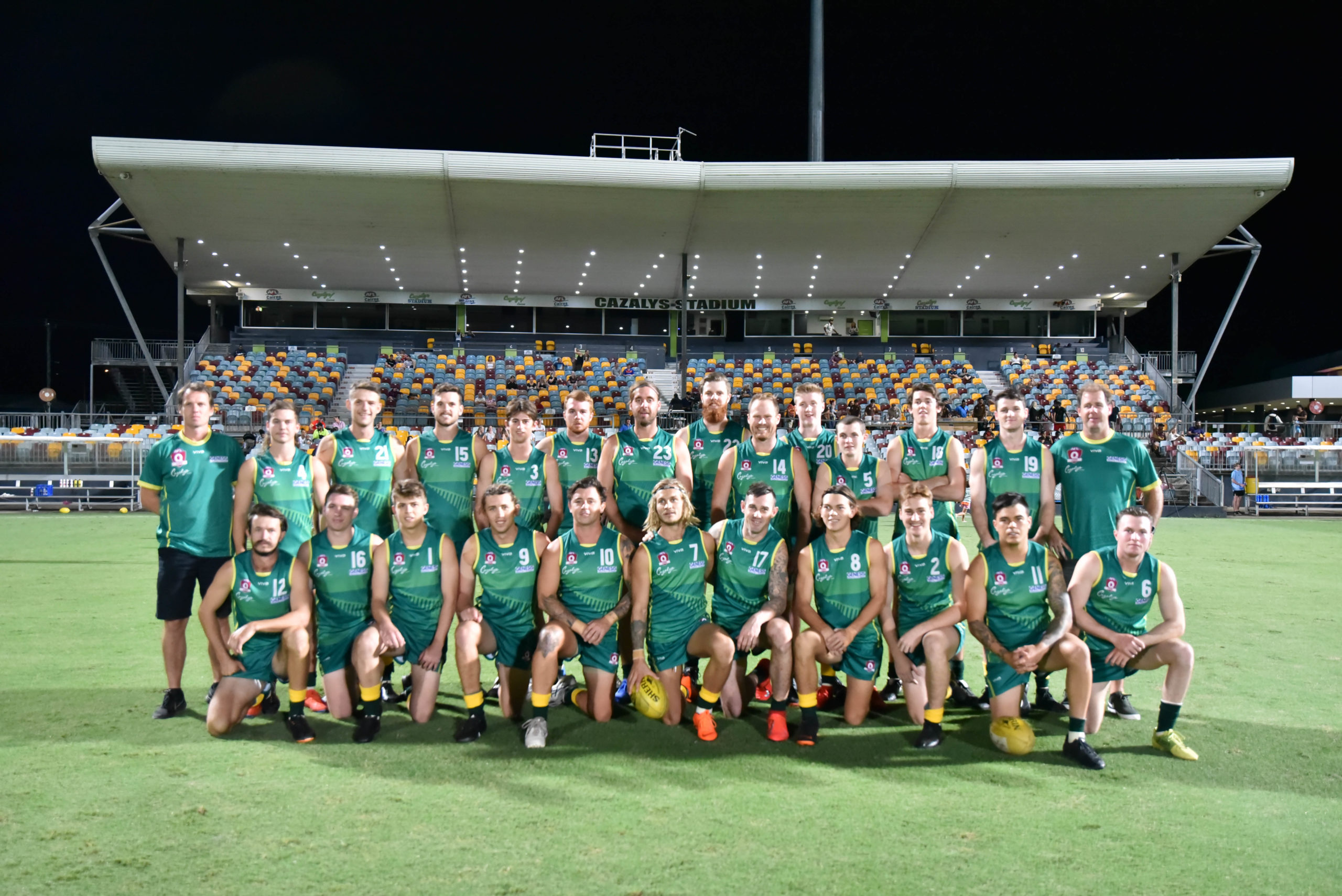 Cairns Post North v South Teams