AFL CAIRNS 2017 FIXTURE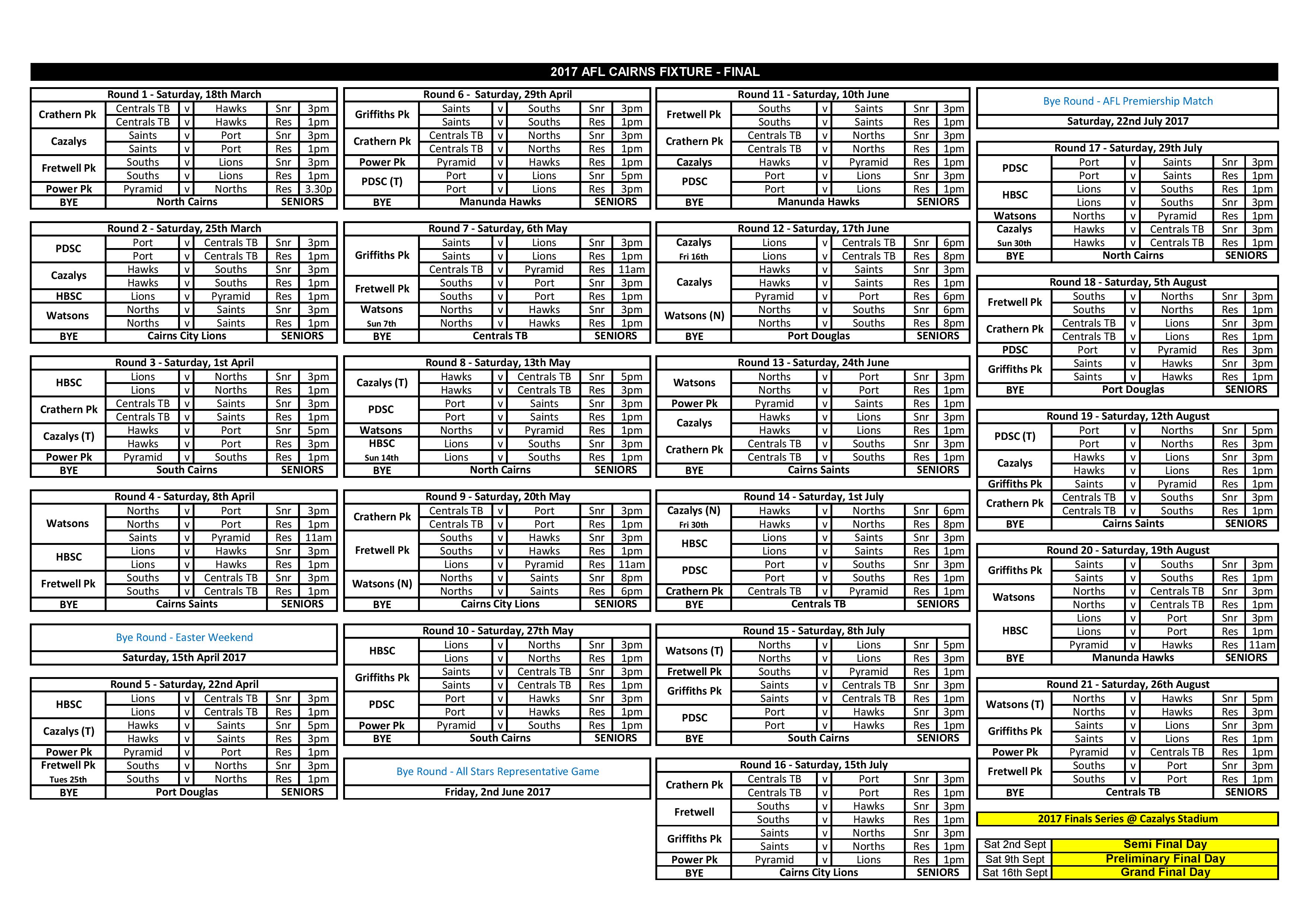 Download PDF Fixture: AFL Cairns 2017 Season Fixture
Media Release:
The 2017 AFL Cairns fixture has now been finalised with the season commencing on Saturday, 18th March 2017. The competition remains a 21 round Home & Away Fixture.
Gary Young AFL Cairns President and Sean Hunter Football Operations Manager will announce the 2017 Season Fixture at a media call 9.00am, 24th of January Cazalys Social Club, 344 Mulgrave Rd, Westcourt.
The Senior Fixture will see each Club play each of the other (six) Clubs three (3) times throughout 2017, with three (3) scheduled Senior Team Byes as well as three (3) General AFL Cairns Byes. The Reserves Fixture will see Clubs play each of the other (seven) Clubs three (3) times throughout 2017, with no Reserve Team Byes only the three (3) General AFL Cairns Byes.
Clubs will compete in a newly formatted XXXX Gold Preseason competition on Saturday, 11th March 2017, the week before R1 commences.
The XXXX Gold Preseason Competition will be as follows:
– Two (2) competing 'Conferences' – North & South
– North Conference: Port Douglas, Centrals TB, Cairns City Lions & North Cairns
– South Conference: Pyramid Power, South Cairns, Manunda Hawks & Cairns Saints
– South Conference would be played at Fretwell Park
– North Conference would be played at Crathern Park
– Winner of South Conference & Winner of North Conference would play a twilight Grand Final at Cazalys Stadium on Saturday, 11th March 2017
(More information to follow in a separate release)
To open 2017, Round 1 will see Centrals Trinity beach host Manunda Hawks while South Cairns taking on Cairns City Lions at Fretwell Park. Due to Griffiths Park being unavailable, Cairns Saints will play their first Home Game at Cazalys Stadium against Port Douglas. In the Reserves, Pyramid Power will host North Cairns at Power Park aligning with AFL Cairns newest Clubs Season Launch.
Round 5 will see the traditional ANZAC Day clash played on Tuesday, 25th April at Fretwell Park between South Cairns and North Cairns, whilst the other Round 5 matches will be played on Saturday, 22rd April at Holloways Beach Sporting Complex, Cazalys Stadium and Power Park (in the Reserves).
Round 8 will be both Pink Footy Round and Mother's Day weekend. With the success of Pink Footy Day in the Tropic, Port Douglas will again be supporting Pink Footy Day and their traditional Navy Blue will be swapped for pink in support of Breast Cancer Australia – this time against Cairns Saints on Saturday, 13th May. While on the Sunday, Mother's Day, Cairns City Lions will take on South Cairns at Holloways Beach Sporting Complex in a 'Super Sunday' Fixture featuring the Juniors.
Round 10 Saturday 27th May will be Indigenous Round and see the traditional Dreamtime by the Sea Match at Holloways Beach Sporting Complex featuring Cairns City Lions and North Cairns. Indigenous Round embraces the wider community and features traditional indigenous cultural activities, including Welcome to Country and indigenous music and dance. It has been a brilliant spectacle in years gone past. Pyramid Power will also host an Indigenous Round match against South Cairns at Power Park.
Round 10 will also be a significant date for Port Douglas who will host a Home matches against Manunda Hawks, which will also align with Port Douglas Carnivale 2017 – a big community event for the Crocs.
There are three (3) Sunday matches in 2017; North Cairns playing Manunda Hawks in Round 7, the Lions hosting South Cairns on Mother's Day in Round 8, while Manunda Hawks will host their first Sunday match in Round 17 against Centrals Trinity Beach at Cazalys Stadium. The Sunday fixtures will see junior matches, from Under 6s to Under 15s, played in the morning prior to the Reserves then Seniors taking to the field, creating a 'Super Sunday' atmosphere.
For the first time, football will be played under lights at Watsons Oval in 2017. North Cairns will play two (2) night games, the first in Round 9 against Cairns Saints to unveil their new lights, whilst their second match is scheduled in Round 12 against South Cairns. The Tigers will also host two (2) Twilight matches, Round 15 against the Lions and Round 21 against Manunda Hawks.
Other Twilight Fixtures include Manunda Hawks hosting Port Douglas in Round 3, Cairns Saints in Round 5 and Centrals Trinity Beach in Round 8 all at Cazalys Stadium, while Port Douglas will host a 5pm Senior Match in Round 6 against Cairns City Lions and North Cairns in Round 19. Twilight matches commence at 3:00pm for Reserves and 5:00pm for Seniors.
Cairns City Lions will also host a Friday Night match at Cazalys Stadium against Centrals TB in Round 12 and in Round 14, Manunda Hawks will host North Cairns in their annual Friday Night Fixture at Cazalys Stadium. Night Matches commence at 6:00pm for Reserves and 8:00pm for Seniors.
AFL Cairns Representative arrangements for 2017 will once again see the Intra-League match between AFL Cairns All Stars and AFL Cairns Indigenous/South Pacific take place on Friday, 2nd June 2017 under lights at Cazalys Stadium. This weekend is one of AFL Cairns General Byes for Season 2017. This will be the fourth match between the All Stars. In addition to the All-Stars Intra-League match, AFL Cairns players will once again take part in the North Queensland vs. South Queensland fixture which in 2017 will be played as a Curtain-Raiser to the AFL Toyota Premiership Match on Saturday, 22nd July, here in Cairns. The North Queensland team will be selected from the Cairns, Townsville, Mackay, Rockhampton and Mt Isa regions. Cairns players have made up over 75% of the NQ team over the past three campaigns and will expect to account for around the same percentage of the side this year.
AFL Cairns will have three (3) General Bye for all Clubs; the first over the Easter Long Weekend in-between Round 4 and 5, whilst the second General Bye will be Friday, 2nd June for the All-Stars Representative Game and the third and final bye will be on Saturday, 22nd July allowing players, supporters and volunteers the opportunity to attend the Western Bulldogs v Gold Coast SUNS AFL Premiership match at Cazalys Stadium.
The 2017 season culminates with a top-four final series at Cazalys Stadium in September, with Grand Final Day scheduled for Saturday, 16th September 2017.
In releasing the 21-round draw, AFL Cairns Operations Manager Sean Hunter, is excited by the jam-packed year ahead. "Season 2017 shapes to be another exciting year of football in Cairns".
Hunter believes the fixture is well balanced for all footy lovers in Cairns. "We have a really good mix for Players and Supporters in 2017 – there is variety in the fixture which will see matches played across different venues at different times throughout the year. Clubs deserve tremendous praise for moving fixtures away from the traditional Saturday afternoon time slot. It creates excitement".
Hunter also said "it is important where possible to accommodate the desires of the member Clubs. It's always a challenge to accommodate the requests of all Clubs as there are many long-standing traditions within the competition now that needs to be accommodated. Souths and Norths always meet on Anzac Day, Lions and Norths always play to coincide with AFL Indigenous Round and it's always played at Holloways Beach Sporting Complex while South Cairns and Manunda Hawks always meet at Fretwell Park in July for the Kris Sievers Memorial match. These long-standing arrangements are important to the Clubs, their culture and to the competition." Hunter also added "We are excited to create new key fixtures like Port Douglas' Pink Footy in the Tropics and the continual support of matches on Mother's Day. These new initiatives create a real buzz around the football community and bring everyone together to watch our Great Game!"
ENDS.
For more information:
Sean Hunter, AFL Cairns
Email: sean@aflcairns.com.au
0402 116 615 or (07) 4042 3000